Measurements
MEASUREMENTS FOR YOUR CUSTOM COMPETITION BIKINI AND FIGURE SUIT ORDER.
We are happy to work on your order! To start, we will require 2 sets of images from you before we can start working on your competition bikini or figure suit order. We may need up to 8 images in different angles to correctly gauge your physique. Send us these images via email to info@competitionsuitshop.com 
It is very easy to take your measurements, simply follow the instructional images and written guidelines below. The process is easy, however, should you have any concern, please feel free to Contact Us  24/7!
What to wear when I take my photographs?
In order for us to make the best and accurate suits for you to wear on stage, we recommend that you wear certain bikinis and bras that:
Can clearly show the body areas that you are measuring as well as highlight your body type as accurately as possible.
Do not have padded enhancements or coverings that may distort your real bust size. Please measure yourself in your natural bra/bikini in the right cup size so we can create your correct on-stage measurements. Failure to do so may result in us using a cup size that may be too big or too small for your competition show.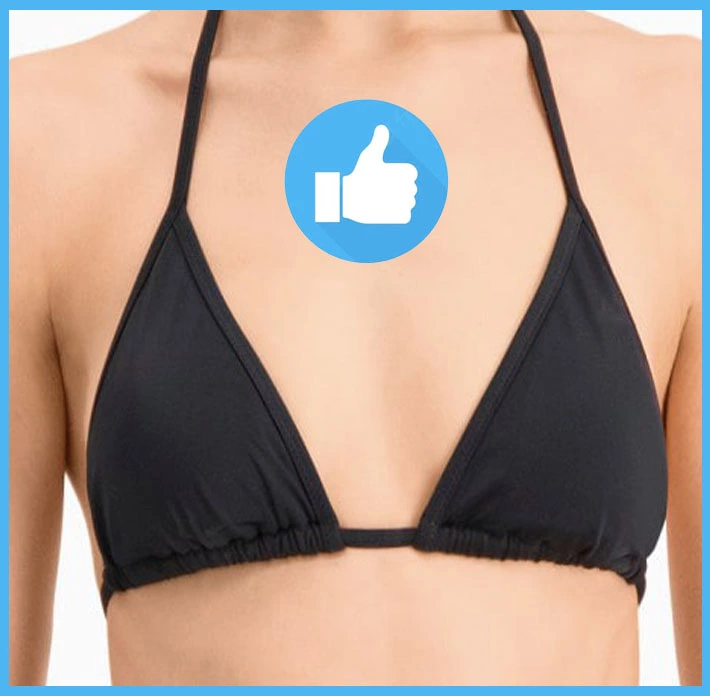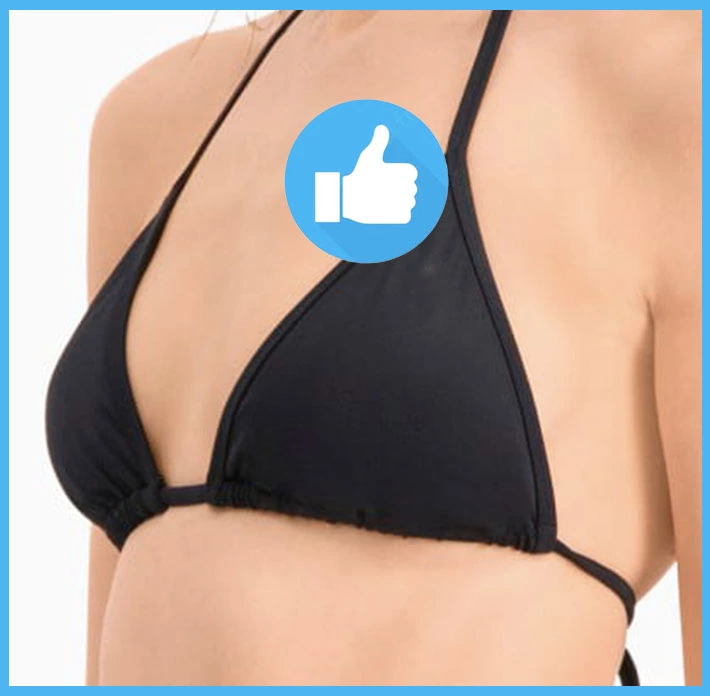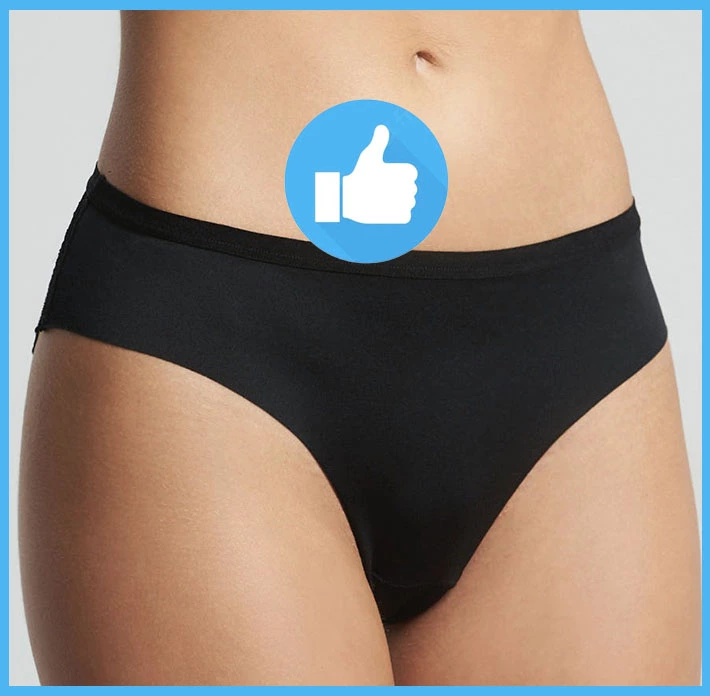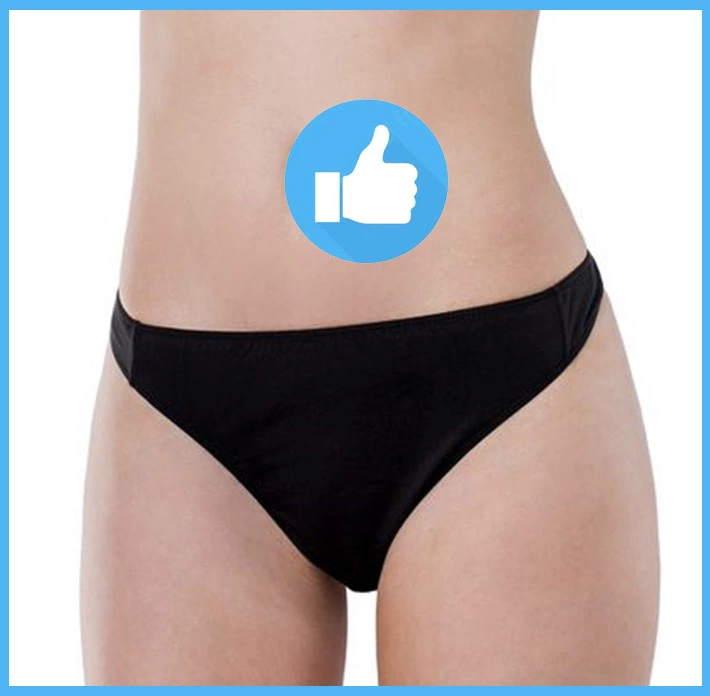 3 Progress Pictures
Progress pictures are used to identify the overall transformation of the athlete. Your progress pictures will help our specialists create your perfect suit that complements your competition physique. We require 3 Progress Pictures (your front, side and back angles) that clearly depicts your athletic physique. Please send us the best representation of your physical condition as you continue through your athletic transformation. This will help us create the best on-stage suit for your on-stage body type.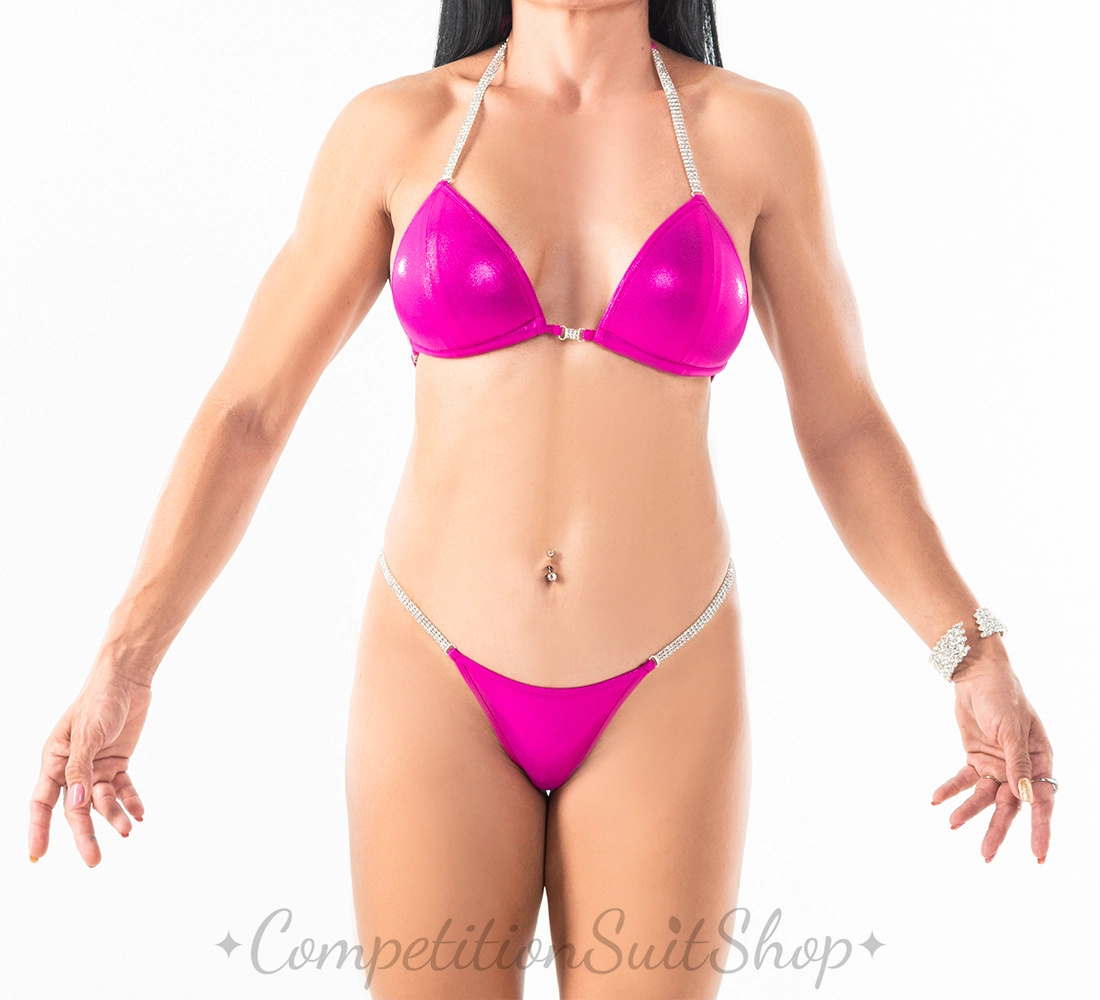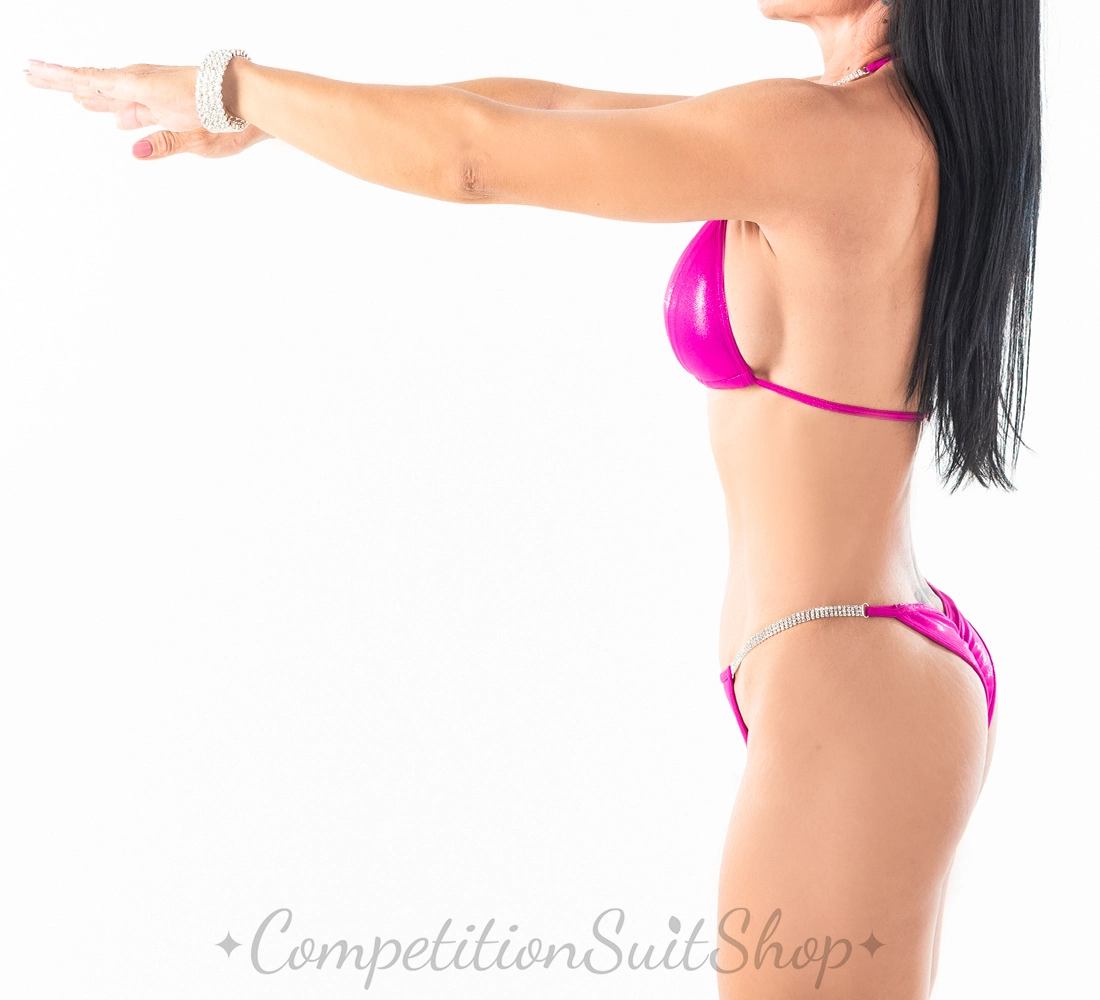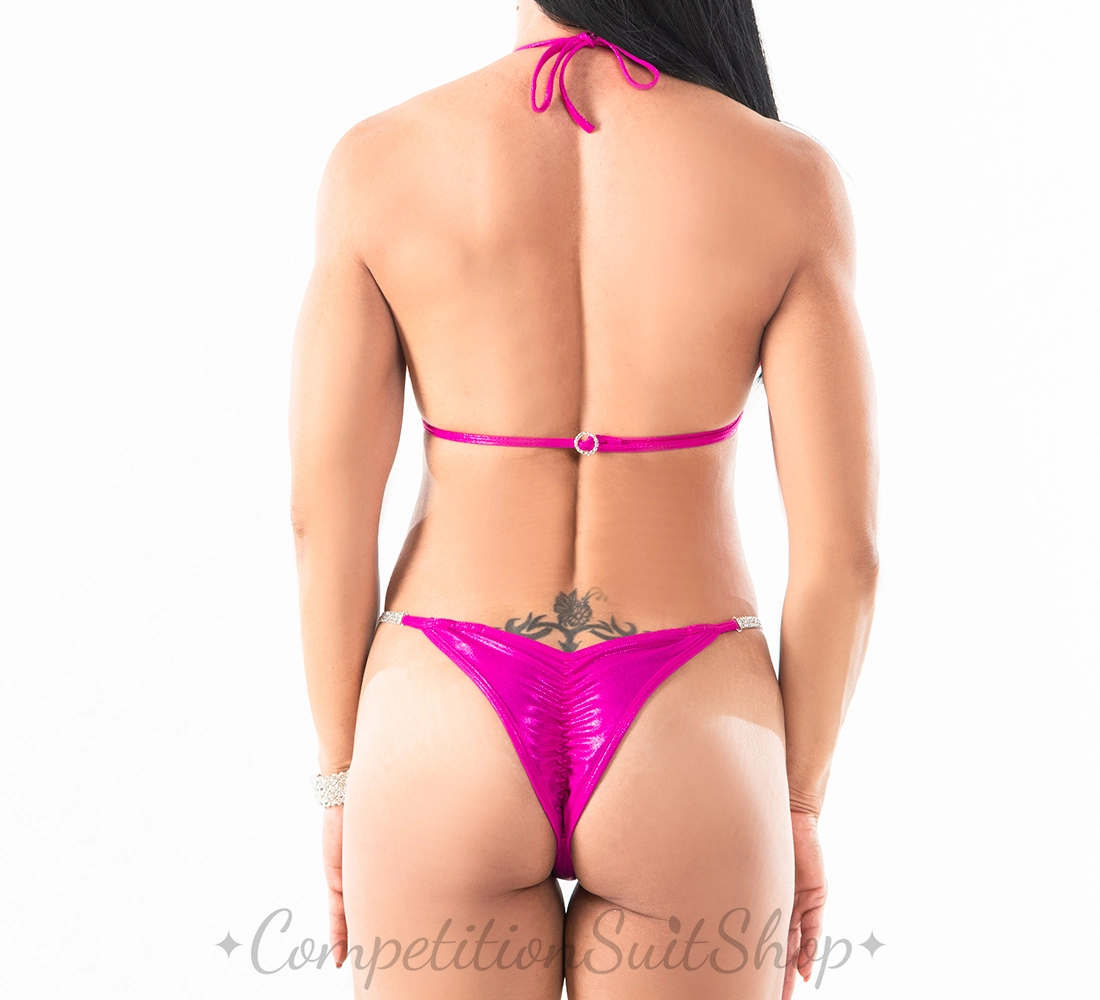 7 Measurement Pictures
To create your perfect suit, our experts will also require your measurements. This process is easy! Simply hold the measurement tape against yourself and take a photograph or a video. You don't have to worry about reading the measurements, our dedicated team will attend to this. Instead, please follow the instructions below.
How do I take these photographs?
Consistent Photograph Angles
'Consistency is key' is a phrase well known, and it holds true on how to capture your images as well. As we will be taking some time-lapsed images of your progress images, please ensure that the angles are always consistent between photographs. We want to get an accurate image of your body, and camera angles can make some difference. High or the low angles can make an individual's body look short, tall or the top or the bottom may appear heavy.
We have outlined easy to follow instructions with sample images on how to take your measurements below. Please make sure that the measuring tape clearly shows the measurements. This will help us immensely!
Picture 1

Bust Width
Place the tape horizontally across your torso, directly under the base of your bikini top. Make sure to hold the tape at least an inch away from the edge of the bikini top to get your cup dimensions.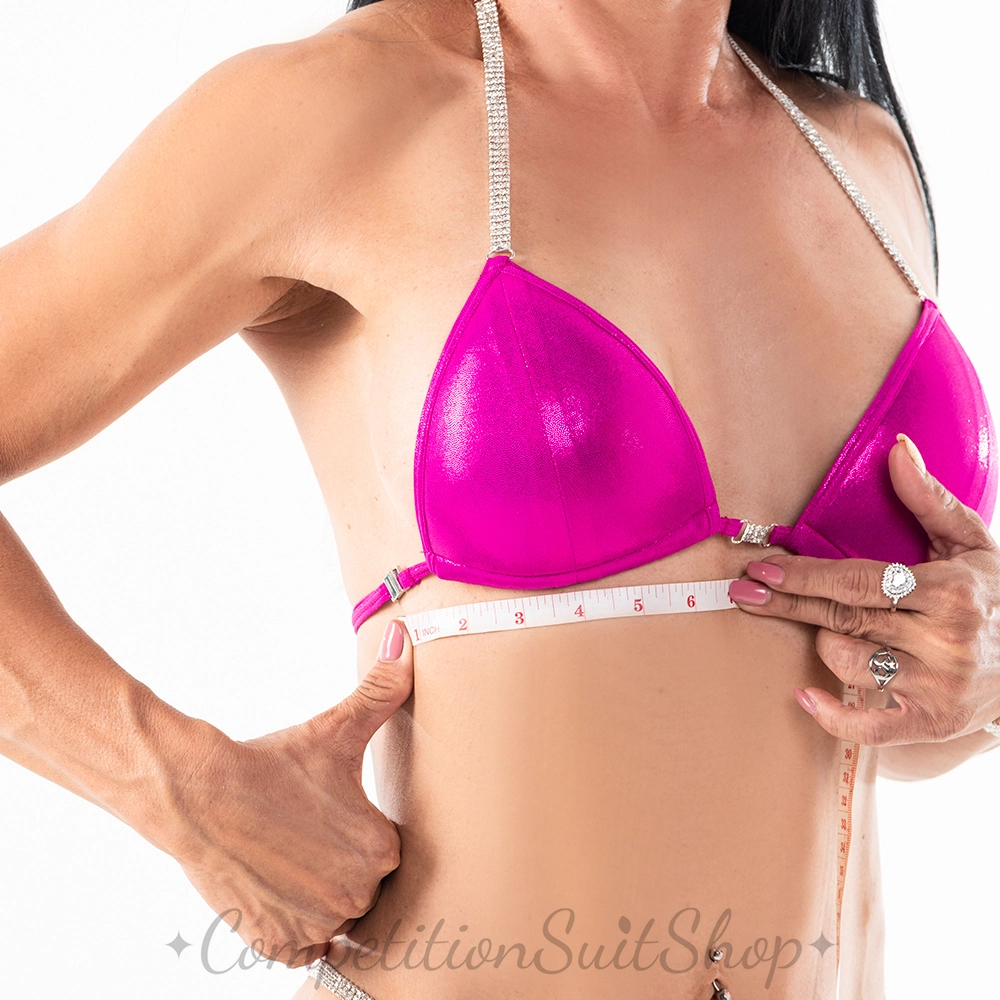 Picture 2
Bust Height
Place the tape vertically across the middle of your breast, along the surface and curvature of your breast.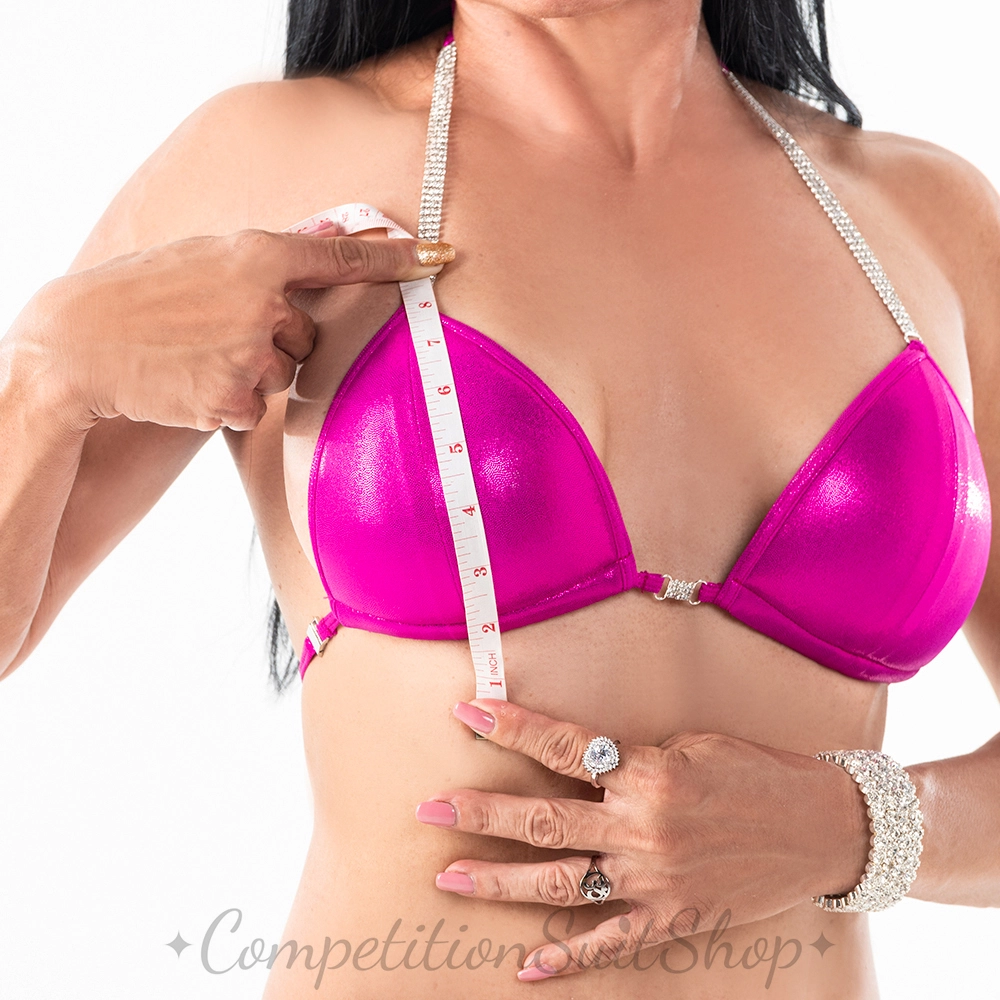 Picture 3
Waistline Front View
Place the tape around your waist at your Hip Bone level measuring the full circumference of your hips as seen in the image below. DO NOT place the tape around your glutes.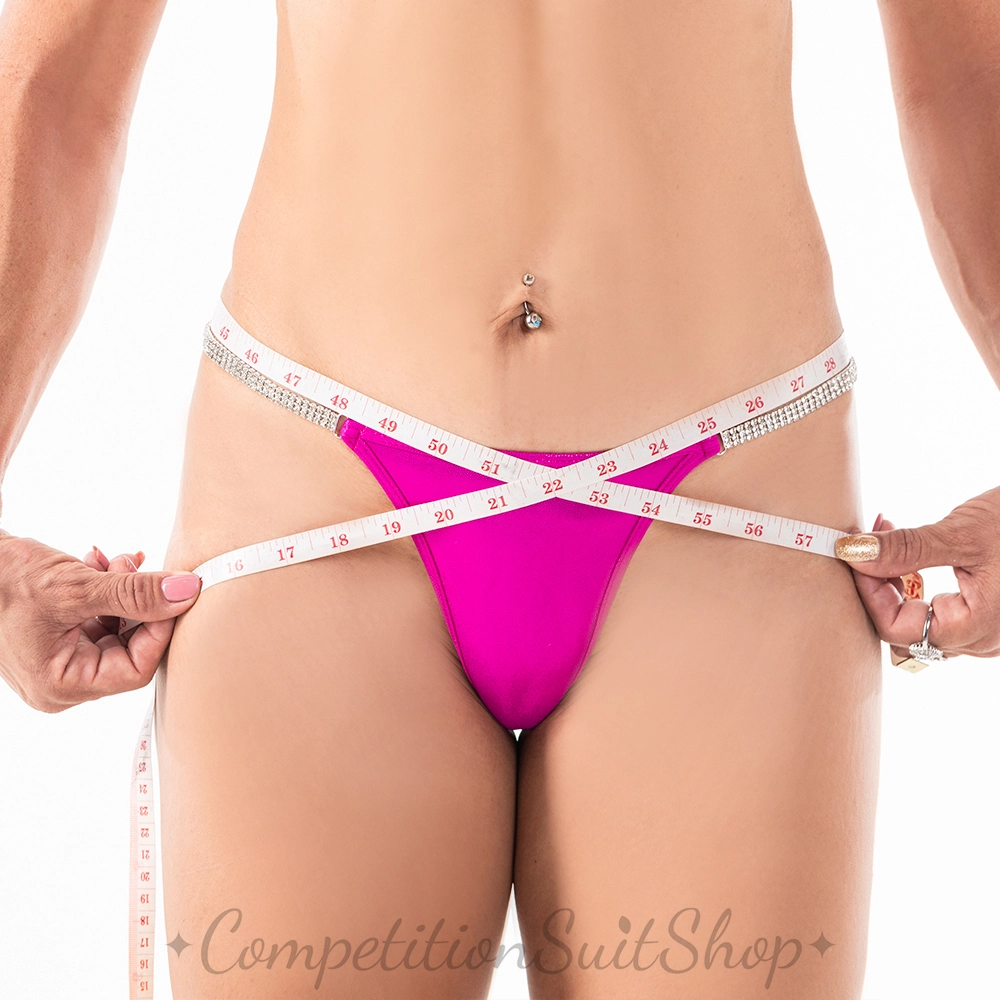 Picture 4
Waistline Side View
Take the photo from a side angle. Please ensure that the measurement tape is sitting level across the hip bone height. (Pro Tip! This is essentially Picture 3 from a side angle)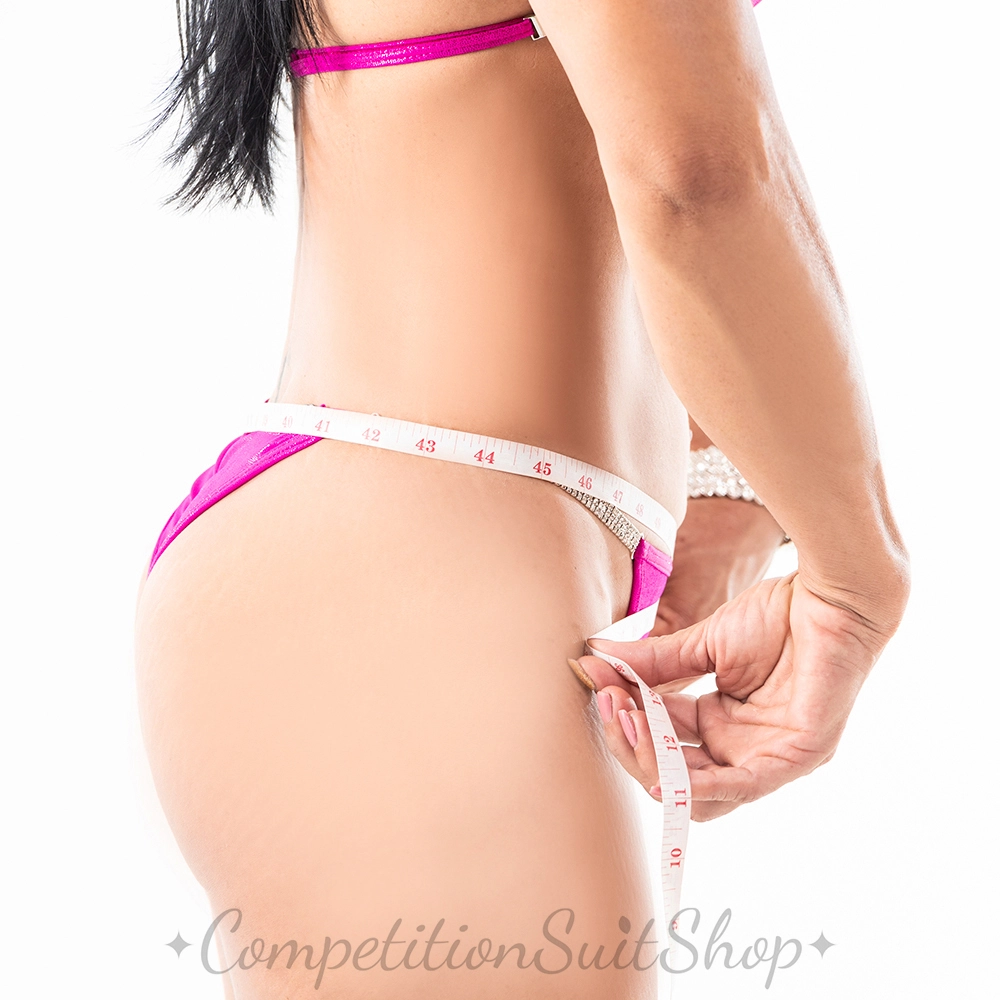 Picture 5
Waistline Back View
This photo is taken from the back angle. Please ensure that the measurement tape is sitting level across the hip bone height. (Pro Tip! This is essentially Picture 3 from a back angle)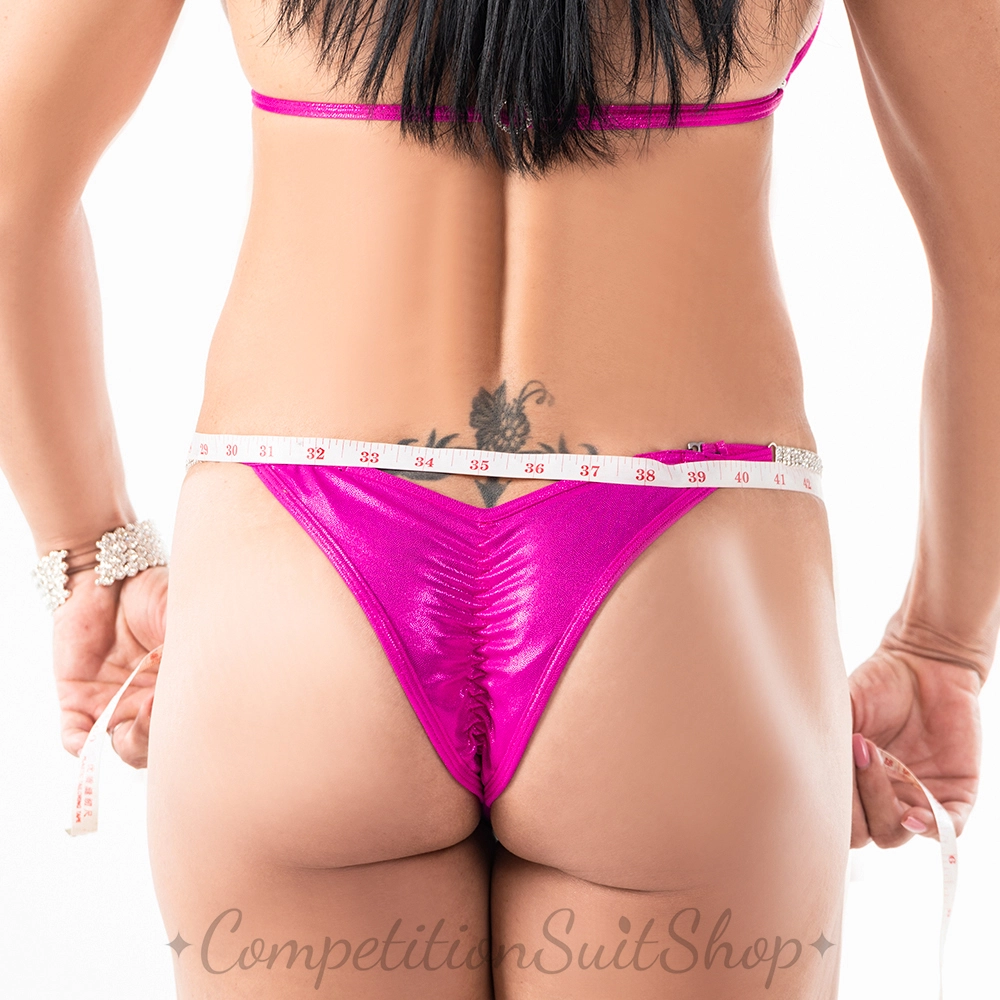 Picture 6
Back coverage
This image will help us determine the back width of your bikini/figure suit bottom, relative to the width of your hips and your selected bottom cut.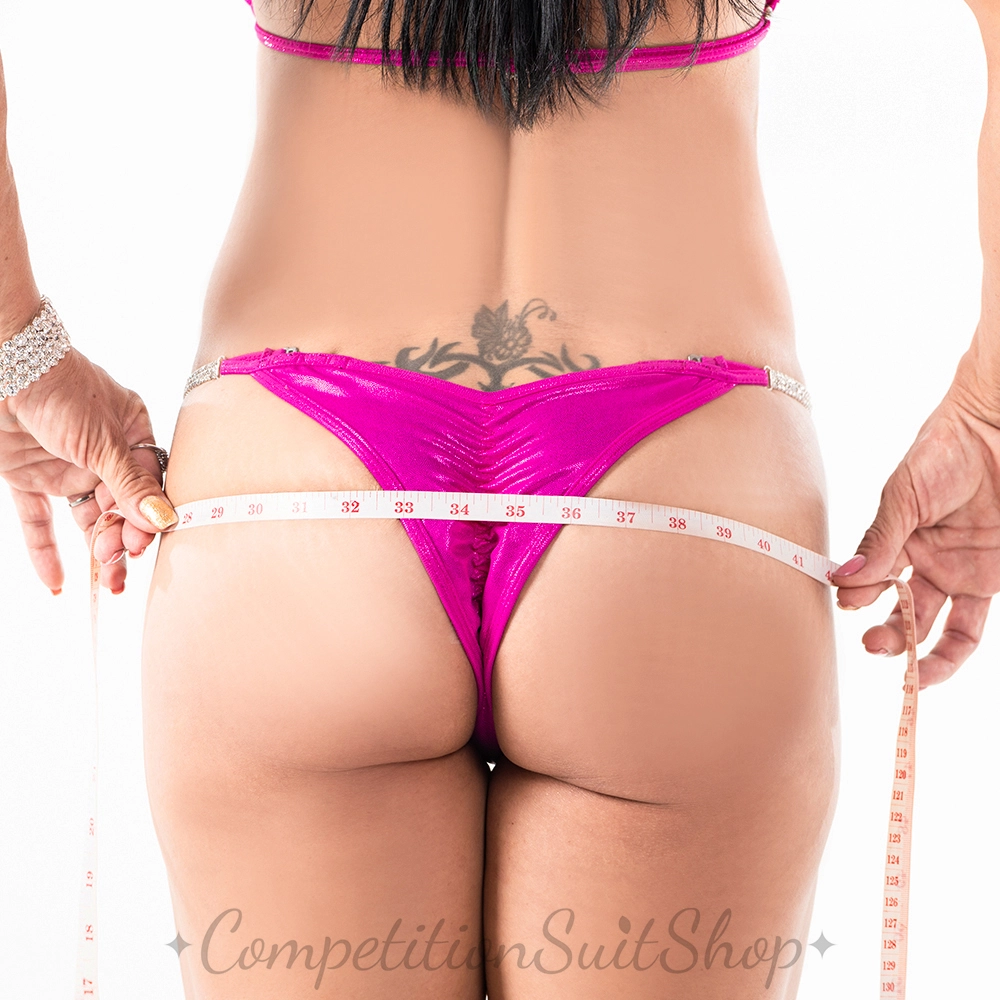 Picture 7
Front to Back Crotch Measurement
This image will help us determine the length of your bottom piece. The front to back rise is measured by placing the tape at the top of your underwear bypassing the tape through your legs till your tail bone.


  
Things to Avoid!
Please make sure you place the tape exactly as per the instructions above. Below are images of incorrect clothing and descriptions of incorrect measurement tape pictures.
The tape measure is not placed across the entire width of the bikini base.
The tape measure is positioned too high on the waistline.
The tape measure is positioned too low and below the hip bone level as required.

Part of the tape measure is placed too high and above the hip bone level.
Holding the tape measure incorrectly where the tape crisscrosses. We will not be able to see your measurements.
Wearing clothing shown in the images below can result to inaccurate measurement readings.